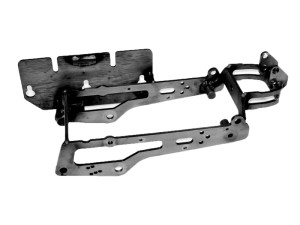 PDF Download
This "Cradle " weldment is just one of four assemblies we make for the MK93 mod-2 machine gun mount used by US Army, US Marine Corps and NATO Countries to secure several small arm weapons like the M2HB .50 Caliber Machine Gun and the MK19 40mm Grenade Launcher to military vehicles, aviation, or maritime platforms.
Due to the tight assembly tolerances and weld requirements, the production process is labor intensive when compared to the size of the part. Laser-cut components of HRPO 4130 steel are formed to print and then robotically welded to create three different sub-assemblies. These are each machined before being robotically welded together. A final machining is required to hold assembly GD&T. The cradle is then phosphated and CARC coated. A variety of inspections take place between the multiple robotic welding stages as well as pre and post machining.
Product Description – Cradle assembly, MK93 Mod 2 Machine Gun Mount.
Market – Military
Materials – ASTM 4130 steel. Thicknesses of .190", .220", .250"
Processes – Single and Dual Arm Robotic MIG Welding
Overall Size – 7.49" x 8.43" x 21.63"
Total Weld Length – 6.02"
Tightest Tolerances – +/- .002" hole diameters, with true position of .010" and pass through of .005"
Assembly Weight – 10.95 lbs
Quantities – Production lot sizes of 800 pc to 1,000 pcs.
Inspection – Welds to AWS D1.1 and Military specs – Multiple check fixtures, AWS Certified visual ND and Macro-Etch weld inspection; Dimensional – CMM