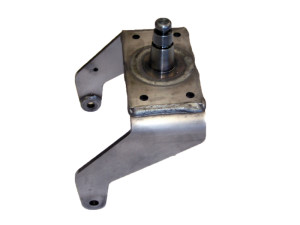 This "Carriage" weldment is one of several assemblies we make for the MK93 mod-2 machine gun mount used by U.S. Armed Forces and NATO Countries. It's the pivoting joint that allows a .50 Caliber Machine Gun or MK19 40mm Grenade Launcher to be rotated when mounted on HMMWV's, Helicopters, and Naval vessels.
Made to strict military standards, parts are laser-cut, formed, and pre-machined prior to robotic welding. The weldment is stress-relieved before final machining in order to meet tight GD&T requirements. After dimensionally validating 62 locations, the weldment is finally sent out for magnetic particle inspection, then Phosphate and CARC coating.
Product Description – Carriage Assembly, MK93 Mod 2 Machine Gun Mount.
Market – Military
Materials – ASTM 4130 steel. Plate thicknesses of .125", .188" & .250" and Bar diameter of 2.750"
Processes – Single Arm Robotic MIG Welding, using Farris wheel positioner.
Overall Size – 6.64" x 7.94" x 9.33"
Total Weld Length – 52.8""
Tightest Tolerances – +.001"/- .000" for machined hole diameters with .010 True position,
Assembly Weight – 6.80 lbs
Quantities – Production lot sizes of 800 pc to 1,000 pcs.
Inspection – Welds to AWS D1.1 and Military specifications – Multiple check fixtures, AWS Certified visual ND and Macro-Etch weld inspection; Dimensional – CMM